There aren't too many Aussies that don't like spending their spare time outside when they can. Over the years, there has been a huge emphasis on extending our indoor spaces with our outdoors. With superb weather for most of the year, it's not hard to understand why. You can transform a good pool into a great one by implementing the newest and latest trends. Here's how!
Make the most of the space you have
There's no denying that the great Australian backyard is getting smaller and today, a lot of people don't have a big lavish backyard that many were once used to. If you are limited on space, it's a good idea to plan every aspect of your pool area to ensure that you are not missing opportunities that could be better utilised rather than putting things in at random.
Tanning ledges are an innovative trend that more and more people are choosing to include in their pool design. What are they exactly? It's a shallow area that is usually integrated into the pool and is around 30-45 cms deep. While it is called a tanning ledge, it can be used for many things. A popular one is a play area for young children.
Instead of buying store-bought items of furniture to place in your pool area, why not create something unique and build your own? Of course, you need room to be able to do this and if you're lucky enough to have it, it's a great way to make your pool area multipurpose. You can either have a sunken in lounge or build one in the pool area, it's completely up to you. Whichever you choose, make sure you have ample cushions and pillows to make the seating area inviting. The more comfortable it is, the more you'll want to use it.
Lighting can give your pool area the wow factor and what makes pool lighting even better? Smart technology! Purchasing lighting that is compatible with smart technology allows you to have full control over your lighting at any time and from anywhere. It is simply paired with your mobile device or tablet and the settings are run through an app. From the app, you can turn your lighting on and off, change the colours or set them up to interchange. It's perfect for setting the mood and creating ambience in your backyard. Smart lighting is simple to use and can be set up on several devices, meaning everyone in the home can adjust the lighting at their convenience. Another great thing about lighting up your pool is it adds an extra element of safety for those summer night time swims.
Plants around the pool aren't a new thing, but jam-packing your plants in the ground directly near your pool area was a popular idea in the '80s, today, less is more and the latest trend is planting in large oversized pots and placing them in the pool area instead. Pastel and cool white painted pots are in right now and they will commonly house large cacti, succulents and giant birds of paradise with a spiller plant variety nestled in the bottom. These types of plants are hardy and can survive around harsh poolside conditions. They require very little care to keep them looking their best year-round.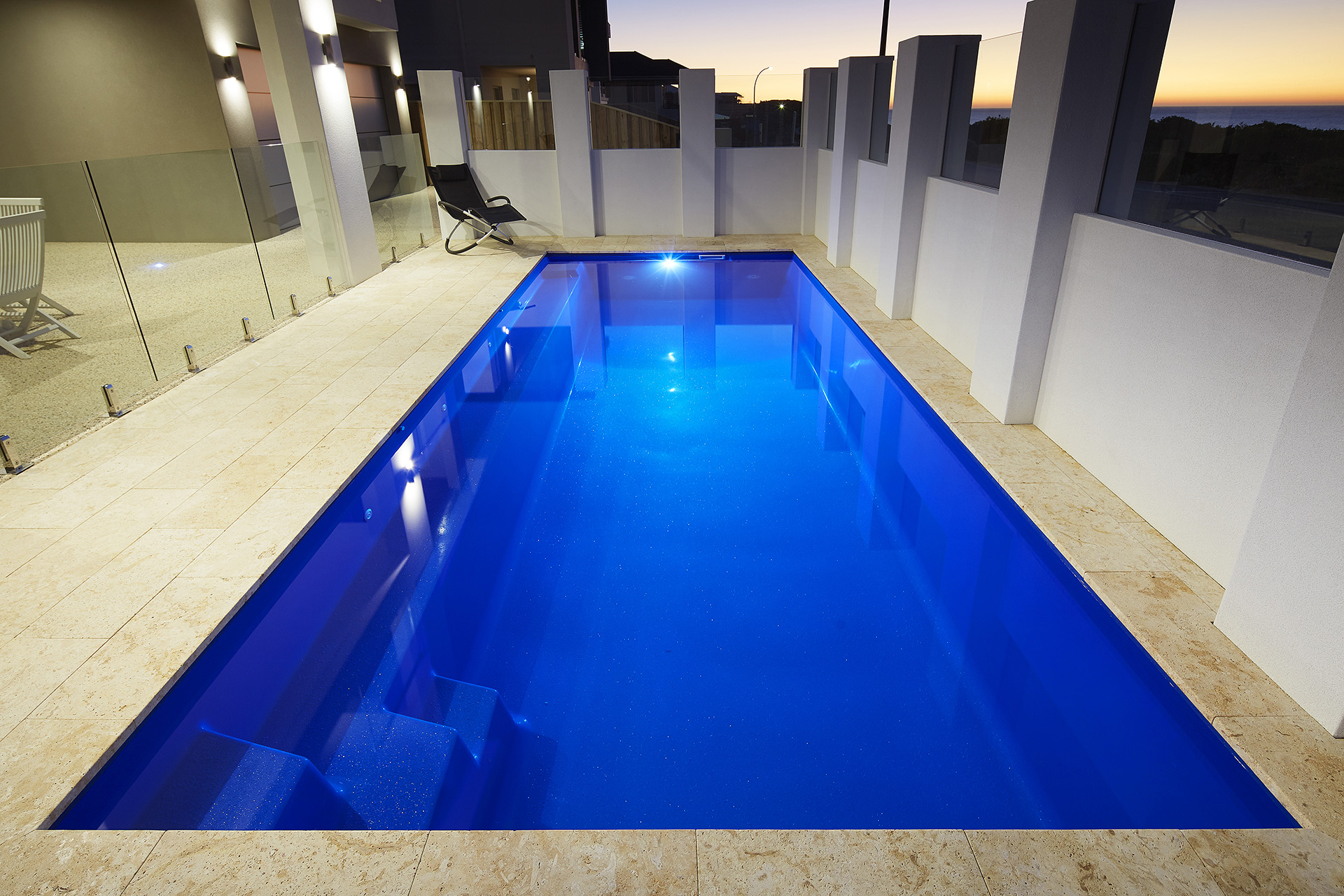 Lounging around the edge of your pool is amazing in its own right, but what if you had a daybed cabana? This can take relaxation to a whole other level. They are made by building a cabana structure near the edge of one end of your pool. Once assembled, an outdoor mattress is placed on the ground within the cabana and then it's usually dressed with plenty of cushions. To add an extra element of luxury, you can add outdoor sheer curtains to each corner.
Swings aren't just for kids you know, there's an abundance of swings available that are designed to be enjoyed by people of all ages. The newest trend is attaching them to an existing truss or the ceiling of an undercover area that shadows the pool area. If you have a large, sturdy tree hanging in your pool area, this can even be used. Many feature comfy cushions and two seats, what better way to relax than swaying in the breeze by the pool.
Oversized tassel umbrellas
Oversized tassel umbrellas are all rage right now and the great thing about them is they are inexpensive and accessible to people with all budget types. Including one of these is a simple way to add a pick me up to your pool area. They come in a variety of patterns or you can stick with neutral colours. Positioning them in the pool area with a lounger and side table underneath makes the perfect spot to take respite from the sometimes overbearing sun. Why settle for one tassel umbrella when you can have two?
If you want a recreational space that has the wow factor, you can't go past a spa for your pool area. You can have it integrated with the pool design or have it in an entirely separate area of the backyard. When deciding which is better for you, it will come down to your budget and how much room you have for them both. Our skilled pool builders are a wealth of knowledge and help you run through your options if this is something you'd like for your home.
While there may be new trends that look fantastic, that doesn't necessarily mean that they are going to be what you want for your home, after all, you have to live there so it's important that you like it.
We hope this post has given you some inspiration on ways you can enhance your pool area. When your backyard is appealing, you'll instinctively want to spend more time there. Here at The Fibreglass Pool Company, we specialise in luxurious and contemporary fibreglass pools and spas that are designed with the outdoor-loving Aussie lifestyle in mind. If you'd like any information on our range or have any questions, get in contact with our friendly team today.