Here Are Some Fantastic Tips on How You Can Fit A Small Fibreglass Pool in Your Backyard!
There is no denying that the great Australian backyard is getting increasingly smaller. Block sizes are now greatly reduced to make room for more people and soaring demand which doesn't leave much space for iconic staples such as a grassy area and a swimming pool. The good news is the dream of having it all doesn't have to be shattered simply because you have limited space to work with. Modestly sized pools are the go-to option for many, and here is how you can fit one in your backyard.
About small swimming pools
Did you know that swimming pools come in an abundance of sizes and can fit in virtually any size backyard? Many have the misconception that the bigger the pool is, the better it will be. This couldn't be further from the truth! Many smaller pool varieties offer all the same benefits as their larger counterparts, in fact, they're identical copies, just smaller. Petite pools varieties are easier to clean, heat better and use fewer chemicals and water than big pools.
What is a small pool, exactly?
A smaller pool is defined as a compact version of a regular pool that generally doesn't exceed 10m2. They are purposefully built to give people options and to enable homeowners with smaller backyards to enjoy the lifestyle benefits that pool ownership can bring. Many smaller pool types come with generous seating and optional spa jets as they can be used for both swimming and relaxation.
When deciding which type of pool to choose, its best to work out what you will mostly use it for. Here are some popular smaller pools.
Swim spas are a great choice for those who want to centre their swimming time primarily around relaxation. At one end, you'll find a spa section that has ample seating and optional jets built-in. At the other end, there is a designated paddling area that is perfect for stretching the legs and floating about. Swim spas are usually less than 5.5 metres long and around 2.5 metres wide, so they make the perfect accompaniment in a courtyard or duplex.
Plunge pools have been designed with the modern-day backyard in mind. They start at around 4.5 metres long and approximately 3.5 metres wide. They are slightly larger than a swim spa which allows more people to swim at any one given time. Plunge pools have generous bench seating wrapping one end of the pool and the remainder is an uninterrupted body of water, ideal for playing games, relaxing and entertaining small groups.
Lap pools are made for swimming laps (the name may have given it away) but they can be used for a variety of activities. Starting at around 8 metres long and 2.5 metres wide, they are a perfect option if you have a long, narrow backyard. They are normally paired with swim jets that are used to create resistance for the swimmer to do laps against and can add a touch of contemporary to any backyard.
How you can fit a small pool in your backyard
If you are building a new home or have an existing property that has a little yard, it pays to plan the layout of your pool to ensure you utilise every inch of the space. You will also need to allow enough room for your pool fencing as a compliant safety barrier must be in place. You may be able to use an existing fence line if it meets pool fencing standards to reduce the amount of space it takes up. Your pool builder will be able to advise you of all your options to give you the best result.
Can you free up more space?
If you've got your heart set on a swimming pool for your backyard, and you're already pinched for space, are there elements in your backyard that you can forgo to make more room for a pool? If you don't have room for multiple things, you may need to decide what you can and cannot live without in your backyard, but before you go removing anything, speak with your pool builder to get some advice. They will be able to tell you what you can have with the space provided.
What about your front yard?
If your backyard is out of the question, what about your front yard? Do you have usable space that could be suitable to install your pool? It's a good option if you physically don't have room in your backyard to accommodate a pool. If this a feasible option and one you consider, ensure you factor in privacy by installing a fence or screening if you don't already have this. It will allow you and your family to enjoy swimming without peering eyes passing by and it also adds another layer of safety by preventing people from entering your pool when you're not home.
Minimise your flooring area
You will need outdoor flooring around your pool such as paving. To reduce the amount of space this takes up, consider keeping the bulk of the flooring at the entry of the pool with the remainder using minimal paving. Another way to cut down on the amount of room your pool takes up is by installing it along a fence line if appropriate to cut down on the total flooring area or installing it to sit close to the house may even be an option.
Small pools are just for small backyards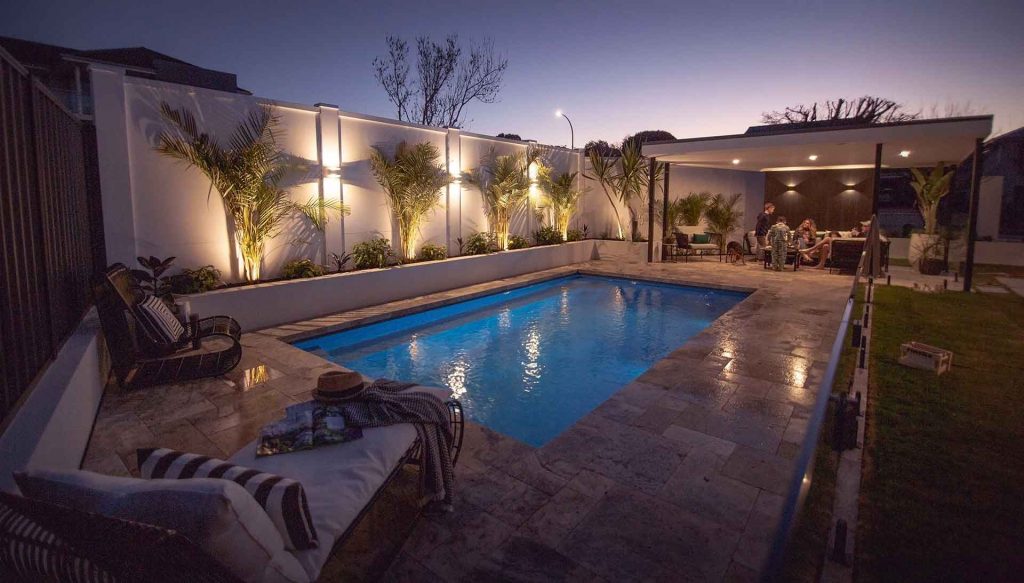 While most love the idea of a big pool, it isn't for everyone. The upkeep is more and some simply don't need that much space to fulfil their swimming needs. Opting for a smaller pool over a larger one allows people with decent-sized backyards to incorporate other things that may be of interest to them rather than just consuming the entire area with a pool.
Benefits of smaller pools
In case you were still on the fence about installing a little pool, here are some benefits to doing so:
Fewer chemicals needed to keep the water clean.

They use less water.

They heat heater quicker and more efficiently.

Consume less energy.

Cheaper to install than a large pool.

You still get all the high-quality features found in a family-sized pool.

Save money on paving and fencing as not as much is needed.

Extra room for other elements.

Pool covers are cheaper.

They come in the same colour range as larger pools.

Great for little children gaining confidence in the water as they don't have far to go to get from one side of the pool to the other.
Having a small backyard shouldn't put you off the idea of owning the swimming pool you've always wanted, with so many options suited to modest backyards, there's no reason you can't have an impressive pool that you'll enjoy for many years to come. Here at The Fibreglass Pool Company, we have pools to complement the smallest of spaces, there aren't too many backyards that are unsuitable for a swimming pool or at least a spa. Get in touch with our friendly team today to discuss your options.