Fibreglass Pools Australian Capital Territory
The Fibreglass Pool Company is excited to announce that we've chosen to brave the ACT winters! So hang up your snowboarding boots (sorry Thredbo) and pick out your togs!
Here at The Fibreglass Pool Company, we're proud to offer you a wide range of pools: from the latest and most cutting edge, to our traditional and classical pools, spas, plunges and lap pools. No matter the vision you have for your home, the Fibreglass Pool Company can provide it. As you might have expected, we've come prepared for winter: our award-winning and affordable fibreglass pools can be fitted with energy-efficient heaters either during or post-installation. We're committed to making sure you can enjoy your pool year-round!
Our pools all come fitted with our advanced, cutting edge gelcoat and resin technology that ensures your pool will last longer and stay healthy. Meaning your family can live it up on the weekends and build memories that you will cherish for years to come.
The Fibreglass Pool Company prides itself on our 30+ years of experience in transforming the backyards of Australian families and homeowners with their dream pool. We've achieved this by committing to open and honest communication with our valued customers. In fact, over 70% of our customer base comes from word-of-mouth referral, so you can be sure that we have your best pool-related interests at heart.
The Fiberglass Pool Company prides itself on our family-owned values and this is a commitment we take seriously. Customer service is our number one priority because we're not satisfied until our customers are. Get into contact now and our friendly, professional team will be in touch with you to bring your dream pool to life.
View Our Award Winning Range
There is no better way to enjoy leisure time at home than with an inground swimming pool or spa. Make the most of family life, relaxing, entertaining, and keeping cool on hot summer days in and around a swimming pool or spa pool.
The Stradbroke Series is a slimline pool design that is perfect for narrow backyards.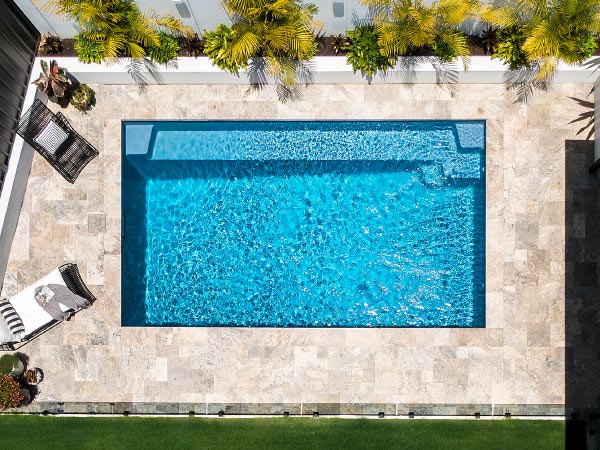 The Hamilton series is a clean and stylish pool design with a generous swimming space.
The Hamilton Slimline series is a clean and stylish pool design. Offering plenty of width and generous swimming space perfect for exercise and recreation, while the full length bench seating is ideal for relaxing with family and friends.
The Hampton pool is one of our most popular geometric pool designs, featuring tight radius corners allowing for a clean, stylish look. The Hampton offers plenty of width and generous swimming area, perfect for entertaining with family and friends.
The Hampton Grande features tight radius corners allowing for a clean, stylish look.
The Hampton Lap Pool has been designed for all ages to enjoy a healthy lifestyle.Boasting clean lines and available in both 10m and 12m lengths you have the luxury of exercising in the privacy of your own home at any time. Coupled with its generous width, there is plenty of space for water recreation too.
The Riverina Series is a clean and stylish pool design. This pool offers plenty of width and generous swimming space.
Our 2.5m x 1.9m Spa is the perfect addition to complement any pool or out-door entertainment area. Fitting up to 9 people, the spa is ideal for socialising and entertainment. Our Spas have the option to be heated separately to the pool.
We have a wide range of small fibreglass swimming pools, many have won SPASA awards for best inground fibreglass swimming pool, we are sure to have a pool that will suit your backyard and requirements.
Our medium sized fibreglass pools are some of our most popular pool designs and are priced keenly to suit your budget. Encompassing straight lines, they look modern and up to date in any setting. With various different designs, you are spoilt for choice.
If you're after size and want a swimming pool to accommodate social gatherings with friends or family, then you need to investigate our selection of sizeable inground fibreglass swimming pools. They provide that expansive, ocean feel.
Sorry it's taken us so long to send this e-mail but things have finally quietened down after a few very hectic months. We just wanted to thank you and your team for the wonderful job you did on our pool. The whole process from signing up to installation was more stress free than we could have imagined it would be.
Why More Home Owners Choose The Fibreglass Pool Company
Have you always dreamt of being able to own your own swimming pool? Well now is the time to take the plunge as it has never been easier. The Fibreglass Pool Company are committed to providing you with a fast, easy and affordable service.
Installation
We provide a specialised installation process, when choosing a pool from the Fibreglass Pool Company it can be installed in as little as 7-10 days. All of our pools are of the highest quality and installed by our own thoroughly qualified and trained pool builders. All of our pools are steel and concrete reinforced which provides exceptional strength and longevity and all uphold a Lifetime paving guarantee.
Australian Made
The Fibreglass Pool Company has been building and installing Australia's favourite pools for the past 30 years. Our manufacturing facilities are state of the art which is why The Fibreglass Pool Company is Australia's leading Fibreglass Swimming Pools manufacturer.
Quality Control
Here at The Fibreglass Pool Company, we pride ourselves on producing only the highest quality fibreglass pools, that is why we have an 8 step quality control process. Producing the highest quality pools and exceptional workmanship is something we take seriously which is why we value our customers and want them to have a peace of mind in knowing they are buying a pool from Australia's best Fibreglass Swimming Pool company.
Lifetime Warranties
The Fibreglass Pool Company offer an extensive and all-inclusive warranty so our customers have peace of mind in choosing one of our top-quality pools. Our warranty is Lifetime Structural, Lifetime Internal and our Lifetime Paving Warranty all fully transferable.
Construction
All of our pools come with a 7 first-class construction guarantee. Our pool colour technology is the best on the market today and comes with a lifetime interior surface guarantee. Our state of the art 7 layer Fade Resistant and Anti-Microbial construction puts us above the rest as it includes interior surface finish, anti-corrosion barrier, chemical resistant layer, kevlar, structural layer, reinforcement layer and outer sealer coat.
Certification
The Fibreglass Pool Company have invested over 10 years designing and building top quality fibreglass pools. Because of the amount of time and hard work we have dedicated into our pools, is why we have such an extensive range of fibreglass pools to choose from. We pride ourselves on delivering only the highest quality and are proud to say we are Australia's only Fibreglass Pool Manufacturer to be awarded the Australian Standards 5 tick certified product award.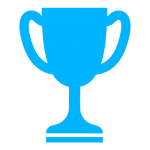 Award Winning Range
The Fibreglass Pool Company have one of Australia's largest range of fibreglass pools to choose from. Our range is simply endless with several different sizes, colours, and styles to choose from. Our designs are exquisite with many beautiful colours and shimmer effects to choose from. Our extensive range of pools is award-winning which sets us above from the rest of the competition.
Safety & Maintenance
When it comes to safety we go above and beyond to ensure all our regulations are met. Customers can feel at ease and have peace of mind knowing that all of our fibreglass pools come with a safety step ledge around each pool, smooth non-abrasive surfaces with no sharp edges and non-skid on the step-entry and floors.
Anti Microbial
Here at The Fibreglass Pool Company all of our pools include a Gel Coat protection to help your family against harmful bacteria. Each and every one of our pools have been built with our Anti-Microbial Polycor 943 Gelcoat Protection.
Just wanted to thank you and your team for the timeframe and quality of work on the installation of the pool. Special thanks to yourself for talking to Rupert and allowing him tostart paving inside the outline timeframe. Every single tradesman that you have working for you complimented your business and the process could not […] You delivered on your promise, a timely pool installation with no hidden costs
4 Easy Steps To Owning Your Swimming Pool
Owning Your Own Swimming Pool Is Only 4 Steps Away!
Get A Free No-Obligation Quote
One of our friendly and experienced team from The Fibreglass Pool Company will be in contact to organise a quote onsite.
Obtaining The Approval For Your Quote
All council approvals will be organised by our experienced dealer, this will be done before we start the job.
Installation Of Your Pool
We will start the process of the construction and excavation of your pool, you can rest assured that this process will be hassle-free as much as possible and can take as little as 7 days to be completed.
Congratulations you now have your own top quality fibreglass swimming pool with one of Australia's favourite companies. Now you can enjoy those warm sunny days, relax, have fun and make the most of life for many years to come.