Purchasing a pool is an exciting time and you may have a lot of questions regarding the building process. We've put together a list of the most common questions we get asked here at The Fibreglass Pool Company to give you an understanding of our fibreglass pool installations.
How Do You Install A Fibreglass Pool?
Step 1: Organise Your Onsite Quote
The first step is organising a pool builder to come out at a time that suits to complete an onsite quote. They will assess the condition of your backyard and establish whether there is good access or not.
Step 2: Talk About The Design
Once the pool builder has evaluated your backyard it's time to talk about what kind of pool you would like. This is a good opportunity to discuss your design ideas and run through which options are best suited to your budget and home. Here are some things you will need to consider:
The size
Shape
Design
Additional features
Fencing
Pool flooring
Colour
Your pool builder should guide you throughout this process and can offer ideas on which pool types they think will be the best choice based on your circumstances. Once you have decided on your new pool, you will be given your quote in writing and the installation will be booked.
Step 3: Submitting Permits To Council
Most reputable pool builders take care of council permits on your behalf, after all, they do it every day and know what needs to be lodged for a quick approval. Once they have received the necessary paperwork back from council it's a just matter of waiting for the installation day.
Step 4: Time To Install The Pool
Installation day has arrived! The first thing that the pool builder will do is lay down a template where your new pool will go. Its is measured and squared to ensure its precisely where it should be. Next, they will start excavating the ground to make room for your new pool and the area surrounding it. Base material is poured into the hole and flattened level to make a solid foundation for the pool to be positioned on. A crane will then lift your pool into place, it will be measured to ensure it's precisely where it should be. The crane will then leave site along with any unnecessary equipment that is no longer required to finish the pool build. The electrical and plumbing work will be completed, your pool will be filled with water and the area around surrounding it will be filled with backfill and compacted. Concrete is poured to make way for your flooring choice. The pavers or alternative of your choice are laid. The pool water is balanced and your fencing is installed. Your pool will undergo a thorough quality control check before the handover is completed.
Is There Any Chance My Pool Could Move Out Of Position Once It's Been Installed?
The chances of a professionally installed fibreglass pool shifting over time are extremely unlikely, even in less than ideal soil conditions such as sand. Quality shells are designed to withstand earth movements and reputable companies will offer a guarantee or warranty on their workmanship to give their customers peace of mind.
How Long Does It Take To Install A Fibreglass Pool?
One of the many reasons people opt for fibreglass pools is that they are quick and easy to install. If there are no unforeseeable delays such as weather or lengthy permits, a fibreglass pool can be installed in 7 days.
Can I Install The Pool Myself?
It isn't advisable to take on a pool installation yourself unless you are an experienced builder. It is a big job that requires skill and precision. If the pool is only the slightest bit out of place it can become a huge safety risk. It may be cheaper initially, however, if an issue were to arise it can potentially cost more to fix than the pool itself. As mentioned above, most reputable pool companies offer warranties on their pools and workmanship so you won't have to worry if there is an issue down the track as you will be covered.
Is It A Problem If I Don't Have Good Access To My Backyard?
Most pool companies have a lot of experience dealing with limited access and they will find a way to get the pool into the backyard successfully. In most cases, it will just require a larger crane to lift the pool over the home.
Are There Other Installation Methods I Can Choose Rather Than Inground?
There are other installation techniques available rather than having your pool installed entirely inground. Depending on the layout of your backyard, a fibreglass pool can be installed above ground or partially above ground. In some cases, you will get a better result from installing the pool this way. Your pool builder will offer advice on which option will be best suited to your home.
Can You Put A Pool In A Small Backyard?
Nowadays fibreglass pools are manufactured to cater to the smallest of backyards including courtyards and apartments. Most fibreglass pool companies have a big selection of small pools to choose from.
Can You Still Install A Pool If My Block Is Sloping?
Pool builders with extensive experience will know the exact logistics involved in installing a pool to be structurally sound on virtually any site.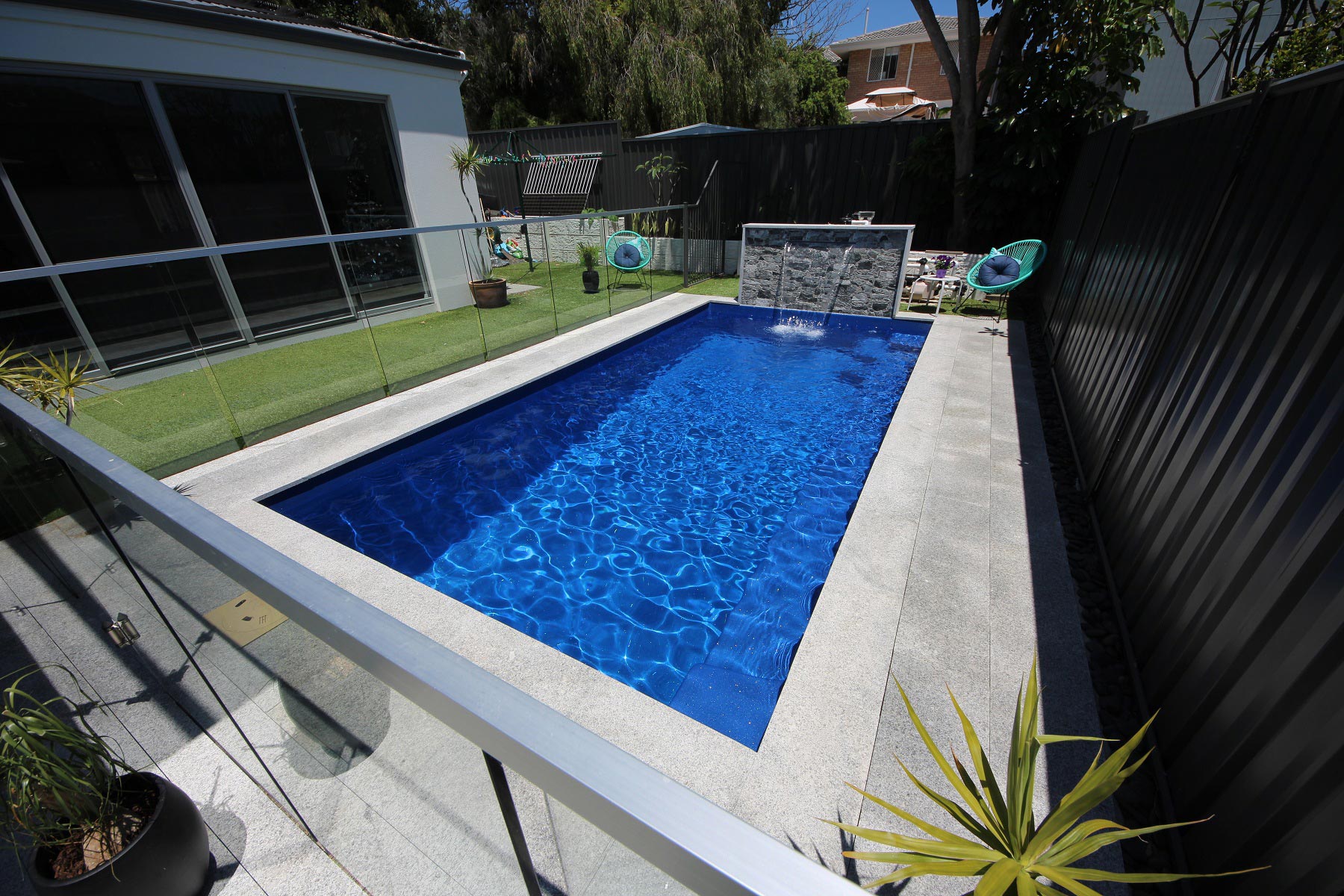 Will I Have To Outsource Other Professionals To Do My Fencing, Plumbing, Electrical etc?
Most fibreglass companies take care of the entire pool build for you including fencing, plumbing and electrical work.
Which Sanitising System Is Best For A Fibreglass Pool?
Fibreglass pools are suited to all sanitising systems regardless of whether you choose salt, mineral or chlorine. Good quality fibreglass shells are resistant to all chemicals.
How Will I Know How To Use My Pool Once It Is Installed?
Once the construction of your pool is complete, your pool builder will provide with you with a detailed rundown on how to operate your pool. This is the perfect opportunity to ask questions and if there's anything you don't understand entirely ask them to explain or show you again. Your builder will also leave you with a user manual for your pool and equipment.
Hire An Experienced Professional
It's a good idea to hire a pool company or builder that will organise every aspect of your pool build, including paperwork, permits, and all construction. If they don't, you may find yourself having to delegate different jobs to different contractors which can be highly stressful for some. Our pool specialists here at The Fibreglass Pool Company take care of everything for you from the initial meeting to competition to make the building experience as hassle-free as possible. We aim to surpass our client's expectations by producing pools that have the 'wow factor'.
We hope this post has answered some of your questions regarding installing a fibreglass pool. If you have any further questions or would like more information, get in touch today and one of our experienced team will happily assist.