Top 5 Best Pool Range And Size Combinations
At The Fibreglass Pool Company, we understand that sometimes choosing your pool from our extensive list of pool designs can sometimes feel…a bit much. What can we say? We love making pools and we love making sure every family can choose the perfect pool even more. But – like a kid in a candy store – we know that sometimes too much of a good thing can make actually choosing a pool a little difficult. 
So, to make your choice easier (okay, maybe to toot our horn about our designs a little bit) our experienced team of pool professionals have compiled a list of our 5 best combos. These combinations include our most popular ranges with their most popular size, to give you an indication of Australia's favourite pools. Read on to find out why!
What Makes A Good Pool Combination In The First Place?
The answer to this one is simple: more and more Aussie families want affordable fibreglass pools that take up less space on their property, but offer more swimming space. Sound like a tall order to you? Not to us: The Fibreglass Pool Company provide these kinds of pools every day.
So, now we know that the best pool combinations include pools that can be fit into most properties, without sacrificing on swimming space. But what else? Pool owners also value highly less maintenance time, low on-going costs and of course: fibreglass pools that just look beautiful. Well, it's a good thing our list has all of this in spades!
The Stradbroke series is one of our most popular ranges, if not flat out the most popular. Customers favour this design because of it's sleek, contemporary design and sharp edges. Additionally, it has a wide range of size options; however, the 4m x 2.5m size takes the lead as the most popular.
Due to its compact size, the 4m x 2.5m Stradbroke can fit into even the tightest of property spaces. This makes it perfect for suburban homes that are limited in terms of space. Despite it's slimline width, the Stradbroke features a spacious amount of length, allowing for a comfortable depth of 1.54m – plenty of space for laps and underwater games. Additionally, this combination looks absolutely stunning in our Polo White Sparkle Colour.
The Hamilton series is our showstopper and go-to choice for many prospective pool owners. Our Hamilton in 7.5m offers a luxurious amount of space, in terms of both width and length, making it the perfect pool for large families. With a depth of 1.9m, the Hamilton is perfect for submerging yourself or swimming laps, whilst still keeping the cleaning process simplified and easy.
Although homes with smaller space to spare may not suit the Hamilton's length, the pool itself serves as a stunning centrepiece for any property that it does inhabit. This is because as a larger pool, it is easier to craft a poolside area around it: think seating areas, gazebos, BBQ, lounge chairs or even a pool slide! Depending on your colour choice, the Hamilton in 7.5m could completely transform your home!
Our Hamilton in Mondo Grey as featured on The Block!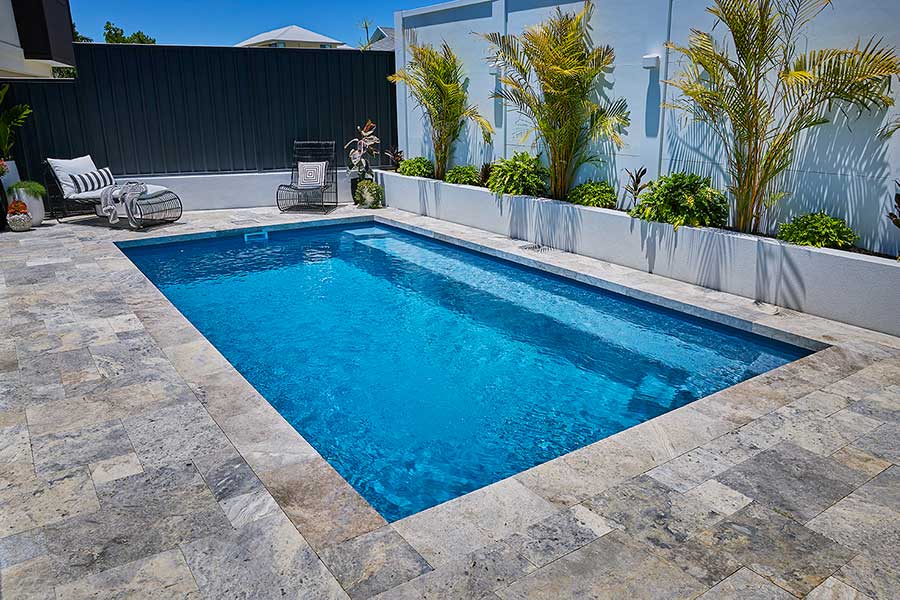 What's a top pool list without a spa? Not a proper list in our (professional) opinion! That's why we've made sure to include The Fibreglass Pool Company's stellar 3m spa wader. This spa is the perfect addon to any fibreglass pool and fits snuggly into most properties. The addition of a large wading area means it is ideal for children to splash about in, and greatly aids the entering and exiting process. It even gives you the option to use your spa without fully submerging yourself!
The 3m spa wader can fit up to 9 people in it, so it's perfect for large families or pool owners who plan on having plentiful guests over. What makes spa waders so popular with our customers? Glad you asked: spas offer the ultimate alternative to winter swimming in the form of warm, therapeutic relaxation. Many pool owners will opt not to use their pool during winter; with a spa wader, you can ensure your swimming habits year long round!
Another point of note: spas are widely popular for the therapeutic and positive health benefits that they provide, including reduced stress, better blood circulation and even improved sleep!
#4 Hampton Grande 10m x 4.2m
Our newest pool range! The Hampton Grande is so new and exclusive, we can only display computer generated images of it – but we're still getting flooded with orders for it! 
The 10m Hampton Grande is designed to be one of our bigger pool ranges in terms of size, and it definitely shows. It's deep end submerges as much as 2.06m and it's width is almost double that of the rest of our pools. Tight radius corners provide a clean and stylish look for this modern pool. The Hampton looks particularly stunning in darker colours, such as our Esperance Blue Sparkle – you might think you're looking at the ocean! 
The Hampton is a perfect fit for rural homes or properties where space is no issue. You can fit your entire family and then some in this pool!
It's no surprise that we're back to our Stradbroke series for our final pick! Okay, before you get the pitchforks and surprised gasps out, let us explain. 
While the 4m Stradbroke is a perfect fit for tight spaces and families wanting less maintenance, the 7m Stradbroke is great for splashing out! Namely, if you have the room to spare then the 7m Stradbroke is a great investment. Fibreglass pools have the lowest running costs of any pool on the market and directly increase the value of your property. These facts alone make up for the extra space required by the 7m series; your whole family can enjoy the benefits of one of the most popular pools on the market!
It's no surprise that the most popular 5 fibreglass pool and size combinations answer the needs of a wide range of Aussie families. From fitting into tight spaces, offering the lowest ongoing and maintenance costs on the market, to providing space and depth for the whole family, this list of pools is sure to meet the needs of any family. So, now that you know what the rest of your neighbourhood is buying, what do you want? Have a look at our fantastic pool range today and join the growing wave of families swimming in award-winning pools from the Fibreglass Pool Company!
Our Stradbroke in Polo White Sparkle; just look at that view!