Choosing a pool builder that is going to stick to their word and deliver the pool of your dreams may seem like a daunting task. If you've never built a pool before you may be wondering where to start. We've put together this guide to help simplify your checklist to ensure you choose a company that is trustworthy and reputable.
Research, Research, Research
The very first step of your pool building journey is researching. Installing a pool is an exciting time but it's important not to rush this. Even if a family member or friend has recommended someone still take the time to thoroughly examine the pool company and others that service your area. This can give you peace of mind knowing you have hired a trustworthy professional that is going to do a quality job rather than just choosing the first one you come across to get the pool building process started as you can. You also want to be sure you are getting the best value for money and not getting ripped off. When conducting your research, keep a list of the pool companies in your area, whichever ones tick the most boxes can help you to narrow down your choices
What Should I Be Looking For In A Pool Company?
Good Reviews And References
Most people share their feedback about a business – the good, the bad and the ugly online. It's the quickest way to establish whether the company does a quality job or not. A simple internet search should reveal a business's customer reviews and from there you can sift through and read them all. A pool company that is sure of their work will have no hesitations providing you with references and examples of work they have previously completed. If a friend or family member has recommended them, even better, you can trust that their feedback is honest and unbiased. If an internet search doesn't reveal plenty of reviews on the company check their website. Ask them directly if they have customers that would be willing to give you a verbal reference. Some things you can ask them include:
• Are you happy with your pool?
• Were there any unexpected costs?
• Are they reputable?
• Were you unhappy with anything?
• Did they complete the pool in the expected time frame?
• Would you recommend them to family or friends?
Before deciding on a pool type and company to install it, you will need to figure out how much you can afford to spend on a pool. Once you have done this, you can work out which options are suited to your budget. If a company has provided you with a quote that is drastically lower than others for a similar pool type and it seems too good to be true, it probably is. If you do take your chances and go down this route, make sure you've done your research first. If the pool is poor quality or it hasn't been installed properly, it's going to cost you more down the track in repairs or to replace it altogether so you must be mindful of this when choosing your pool company. Ensure that your quote isn't subject to change and is fixed price. Clarify with the builder that it includes additional things such as paving, fencing, labour, machinery, and equipment. You should also ask if you will have to pay extra if the construction takes longer than expected or if they run into unexpected problems whilst digging. The pool builder needs to put the quote in writing and list a breakdown of costs. Once you have agreed to the quote, a contract will be written up and you and the builder need to sign it, you should be given a copy. This must be done before construction begins.
Pool companies and builders that are members of SPASA (Swimming Pool & Spa Association of Australia) are recognised for their quality workmanship and exceptional customer service. They adhere to a strict code of ethics and when choosing a company that is a SPASA member you are covered if for any reason they cannot complete your pool build, SPASA will step in and find another SPASA pool company to take over and complete the pool at no additional cost to you.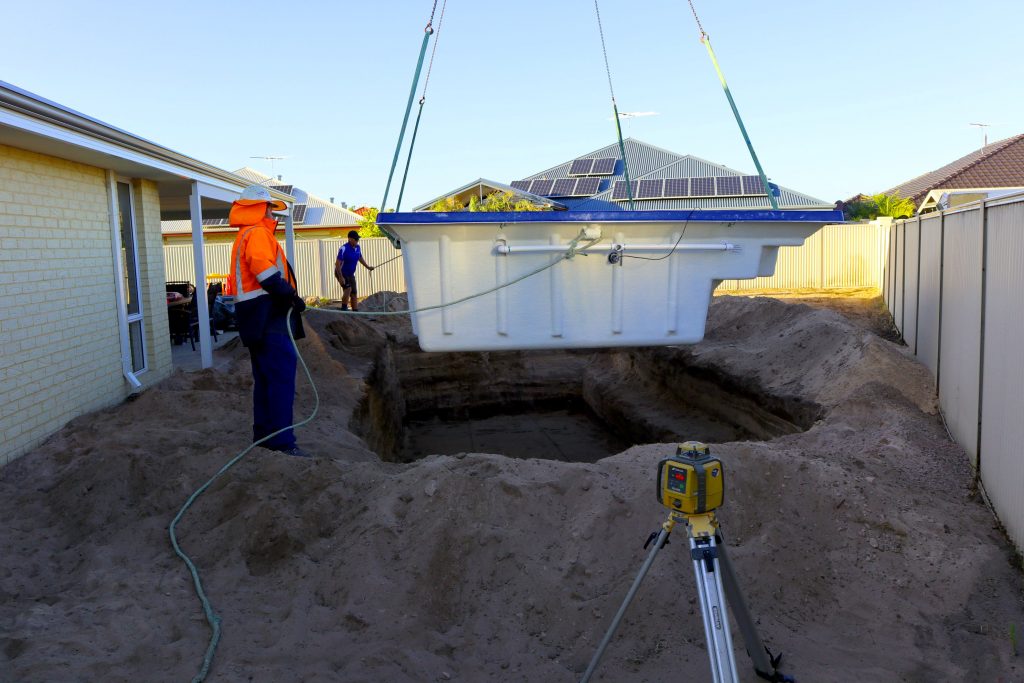 Don't take an attractive website with some nice-looking pictures of pools as face value you need to dig a little deeper to make sure they are reputable. The pool company should have a landline number, website, and physical address. They must be licenced, insured, registered and their pools and construction should be backed by generous warranties or guarantees. The company should have many years' experience in the industry, if they don't it doesn't necessarily mean that they won't do a satisfactory job, however, a huge number of new businesses don't make it past the first year and if they go bust, your warranties are null in void. A company that has been around for a long time is unlikely to shut up shop and your warranties and guarantees are more likely to be honoured if an issue were to arise with your pool.
They Specialise In The Pool Type You Want
The most common types of permanent swimming pools are made of different materials such as fibreglass, concrete, or vinyl liner. In most cases, a company will specialise in a particular pool make. For example, a fibreglass pool company is not going to install a concrete pool.
Extensive Pool Building Experience
This is a given when spending a significant amount of money on a pool. The more experience the company has the better they will be at installing pools on various soil conditions, terrains, and awkward sites such as sloping blocks. This ensures that the pool is not only structurally sound but highly functional and appealing too.
The pool company needs to have good communication from the get-go and your pool builder should be happy to answer any questions you have. A lot of decisions need to be made when installing a pool, poor communication is not only frustrating, but a lack of correspondence can potentially leave you with a pool that you are not entirely happy with. Ask the pool builder if you will be included throughout the process and make sure they listen to your ideas and offer good advice on ways to install the pool to give you the best result with the space you have.
Reputable pool companies fill out and submit all necessary paperwork on your behalf to obtain permits from council. They know exactly what needs to be lodged to get approvals back quickly. Once they receive these, they can start building your pool.
While researching pool companies does take time, it can pay in dividends when you are getting the highest quality pool for your hard-earned dollars. Our team here at The Fibreglass Pool Company are industry leaders and have spent many years fitting and installing stunning fibreglass pools across Queensland. If you would like further information on our pool series or if you have any questions get in touch today.