Keep Your Poolside Area Safe With these 5 Tips
A fibreglass pool is a fantastic way to enjoy your summer weekends and keep healthy while you're having fun! But do you know what's even funner than that? Safety! Okay, okay, hold the cringes folks. We get it: once you've had your fibreglass pool installed, the last thing on your mind is probably safety precautions.
Safety First, Then Swimming
But, whether this is your first time as a pool owner or perhaps you've had one for many years, it never hurts to take safety seriously. As fun as it is to swim in an award-winning fibreglass pool from The Fibreglass Pool Company, an unkempt poolside area can sometimes offer up hazards. It is often too easy to forget that a messy poolside area can create problems for your family.
This is especially the case when you have children, pets, or guests over who are unfamiliar with your poolside area. But worry not: the process of making your poolside area as safe as can be is an easy and quick one, with most hazards requiring little effort on your behalf to fix. Read on to learn how to keep your poolside area as safe as possible!
#1 Comply With Proper Fencing
The number one thing you can do to ensure your poolside area is safe is to make sure the fence surrounding your pool is doing its job right. 
A proper fence will keep unsupervised children out of your poolside area – and more importantly – your pool. This means that no child should be able to open your pools gate without assistance from an adult. This also includes the fence being high enough that a child cannot climb over, or slip through. 
Although you will need an approved fence in order to install your pool in the first place, a fence can become unsafe over time. This is why it's so important to regularly check your fence each month. Some things to look out for are: 
Degradation of your fence.

Overtime (and especially after harsh weather) your pools fence can degrade and even break down. This concern mainly concerns timber fencing, but can also include metal. Ensure you repair any broken part of your fence ASAP, as pets and children could exploit this.

Climbable objects to close to the fence.

Any object that is too close to your fence could be used by children to climb

over

the fence, putting them in danger. 

Self-closing lock.

All pool fences must have a self-closing mechanism that swings the gate shut after you open it.
For more information on pool fencing, you can check the QLD governments site here.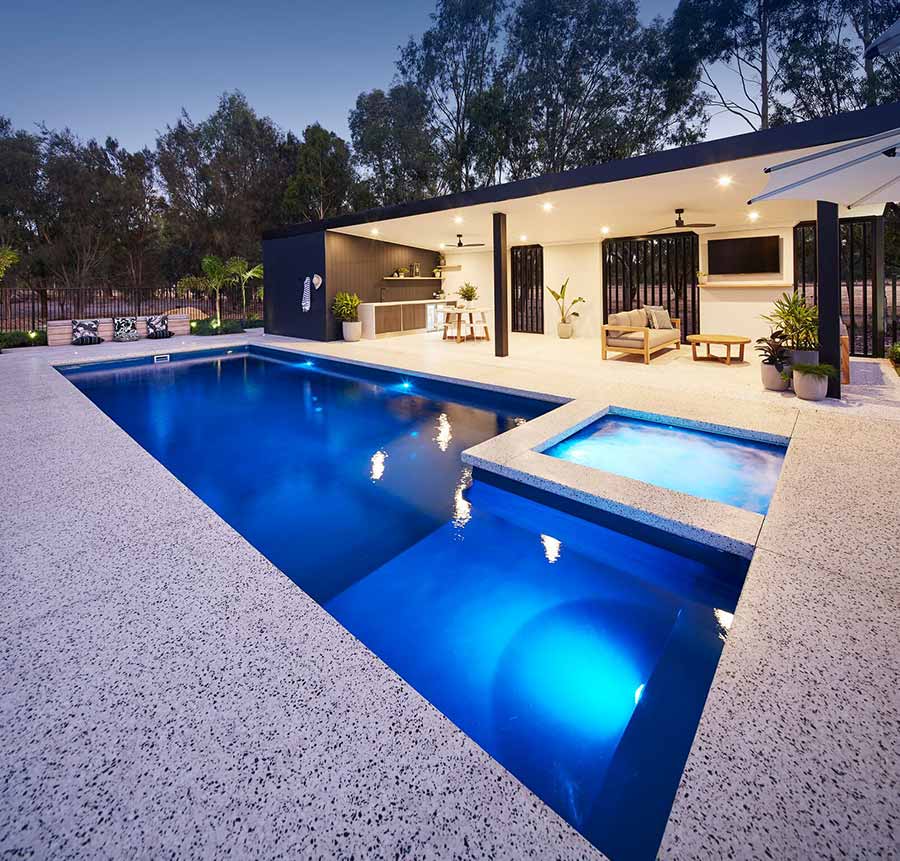 #2 Some Things Aren't Meant For The Pool (Phones, Glass, Etc.)
This one is fairly self-explanatory, but the repercussions may not be immediately obvious. Keeping electronics (like your phone) and glassware (bottles and drinking glasses) out of your pool is very important. The water could destroy your electronics beyond repair and if any broken glass gets in your pool then the water will have to be drained – a costly, complicated and time-consuming process.
In addition to this, a poolside area is typically slippery due to all the water being splashed from your pool. This can make it easier to slip and drop any glass that you may be carrying. Almost all pools will have some sort of hard tiling surface surrounding them, meaning that any glass dropped will be sure to shatter.
Lastly, if you are supervising any children in the pool, it would be best if you kept your attention on them and not your phone. It's far easier to keep your family and guests safe if you just keep electronics and glassware out of your poolside area.
#3 Keep Your Poolside Area Tidy To Avoid Tripping Hazards
It's always a good idea to keep your poolside area clean and tidy, in order to avoid any tripping hazards. As we mentioned earlier, most pools will be surrounded by a hard tiling surface, meaning any falls on you or your family's behalf could result in injury. So, make sure to keep pool toys (floaties and balls) packed away securely, and any maintenance tools (skimmers, vacuums) tucked away from the edge of your pool.
…Make sure to keep pool toys – such as floaties and beach balls – as well as skimmers and pool vacuums, tucked away safely and securely, in order to avoid tripping hazards…
#4 Invest In A Pool Cover
Have we mentioned how ridiculously valuable a pool cover can be for your pool and family? Not only will it keep leaves out of your pool and reduce your cleaning time, and increase the lifespan of your pool, but it can make your poolside area safe too! By keeping your pool covered, you will ensure that anyone who is unfortunate enough to fall in will not be immediately submerged in water. Instead, they will have a lifeline in the form of the pool cover to cling to, allowing them to stay afloat. This can be lifesaving for children and pets.
#5 Always Bank On Supervision Whilst Swimming
The most effective way to keep your poolside area safe is to ensure supervision for anyone that swims in your pool. This is especially important for young children, and even yourself! By having a family member or friend outside when someone else is swimming, or navigating the poolside area, you're ensuring that even in the worst-case scenario, somebody is nearby to help out.
Stay Safe In An Award-Winning Pool Today!
Well, now that your poolside area is as safe as it can be, you know what comes next: a pool party! But before you can do that, you'll need a beautiful fibreglass pool to swim in! So, come and check out our range here at The Fibreglass Pool Company – you won't be disappointed!